F the adwallas and the jingle-writers operating in the country have their way and are to be believed, India should win the World Cup in 2003. But will it be so? So much time, effort and, of course, money is being spent to promote the World Cup! To whose advantage? The hype created by them, even if the Indians do not have a realistic chance of laying their hands on the glittering trophy when the tournament ends on March 23, has only put the players (smarting as they are after their miserable showing in New Zealand) under additional pressure. When the players need time to iron out their deficiencies at the nets and to rest their tired minds and body they have to ''shoot'' for their sponsors, who have gone into a frenzy to market the tournament as the championships draws near. They also attend celebrity events, again at the bidding of various advertisers. It is money which is making the (Indian) mare go. What effect it will have on the performance of the Indian players only time can tell!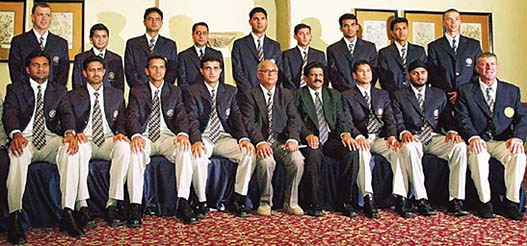 The Indian cricket team: Will they be able to pull it off?
Why such a situation has come about is difficult to answer. Even the triumph in 1983 at Lord's, when India put it across the then mighty West Indies to lay their hands on the World Cup for the first and only time, did not see such an outpouring of ''nationalistic fervour." In 1983, what worked to India's advantage was probably the fact that we expected very little from the team. The team was an unknown entity and was not in the public glare. Maybe, market forces and media hype have something to do with this but of one thing one is sure — the Indian cricketers of 2003, even if their performance is below par and leaves much to be desired, are far richer and more well known than the members of the winning team of 1983 barring, of course, Kapil Dev, who still looks fit enough to walk into the current Indian team. And even today his face is seen as often as that of Ganguly or Rahul Dravid. The ''great'' Sachin Tendulkar is, of course, a class apart. Open any magazine, switch on any television channel or walk past any Indian street and the face of some member or the other of the Indian cricket team is there for all to see.